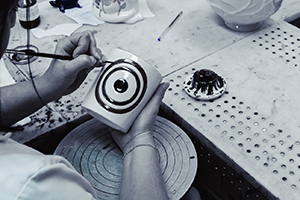 For safety reasons, masks must be worn at all times.
Reservation : (+33) 03 82 24 30 94
Duration of the visit : 1h
GUIDED TOURS: By appointment only, depending on availability (except on holidays and weekends)
TOUR START TIME: 10:00 a.m.
During hot periods, the temperature in the factory is even higher with the use of ovens. We recommend that you wear light clothing and carry a bottle of water.
INDIVIDUALS :
LIMITED TO 8 PEOPLE PER VISIT.
PLEASE ARRIVE 5 MINUTES BEFORE
Rates
Adults: 7 € per person
Children from 6 years old: 3 €.
We inform you that we are not able to accommodate more than 8 people simultaneously. We thank you for your understanding.
SCHOOLS :
CONTACT US.
Rates: 3 € per student
Free for teachers and accompanying persons
We will not take more than one class per visit, that is 25 to 30 children, who will be separated into two groups with a departure at 10 minute intervals.
 
MANUFACTURE DES EMAUX DE LONGWY 1798
3 RUE DES EMAUX
54400 LONGWY BAS
TEL. 03 82 24 30 94